RedBull – the leading energy drinks brand in the world – organized Positive Day, and set an Asian record with more than 2,000 participants joining a fistbump relay in a group shaped like Vietnam to spread positivity across Vietnam.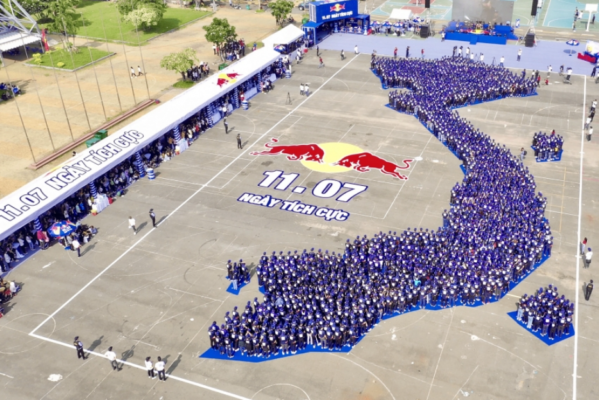 RedBull initiates Positive Day, setting an Asian record to spread positive power across Vietnam
Redbull encourages young Vietnamese to celebrate and awaken the positive power within them, overcome challenges, and continue to take strides along the journey of conquering their dreams.
On the morning of July 11, 2020 to mark a significant milestone in Red Bull's journey to spread positive power and conquer challenges from the early May 2020, Red Bull organised Positive Day at Phu Tho Stadium with the highlight of a new Asian record set by the participation of more than 2,000 young people. In addition, Red Bull also calls for the community to spread positive power on social networks through multiple meaningful activities.
The first three months of 2020 passed with unforeseen volatilities and Vietnam is certainly no exception. After fighting the toughest challenges, the whole society entered the equally challenging phase of economic recovery, where young workers are the core force. The campaign to spread positive power initiated by RedBull is a timely boost to evoke the internal power and optimism of young Vietnamese people.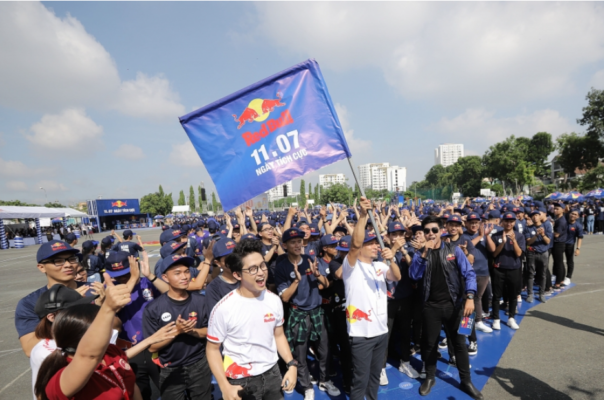 Red Bull initiates Positive Day, setting an Asian record to spread positive power across Vietnam
"Red Bull takes pride in creating a launching pad for the positive power to spread and we will strive to create even more significant milestones," said Nguyen Thanh Huan, general director of TCPVN, the owner of the Red Bull brand
"We will continue to amplify the messages of Positive Day, so that it will spread more strongly in the future. When we look back years later, it will be the Positive Day that helped maintain an optimistic spirit and a strong will in the populace to face the challenges standing between them and their dreams. In the following years, Red Bull hopes that the campaign will grow in both scale and quality to further spread the positive power to every Vietnamese, urging them to lean in, power through challenges, and redefine their limits," Huan said.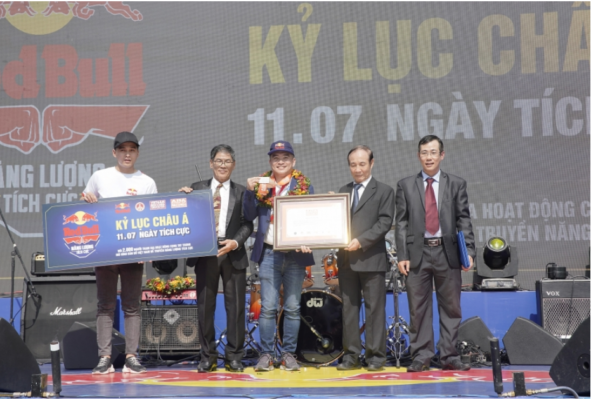 Nguyen Thanh Huan, general director of TCPVN receives Asian record to spread positive power across Vietnam
In addition to the new record, Positive Day also brought a lively and energetic atmosphere for thousands of young participants through one-of-a-kind physical activities such as tire pulling, hammer bumping, or warped walls. The participants also immersed themselves in explosive tunes through the performance of famous bands like Microwave and F-Band.
Founded in 1981, It quickly became a famous and successful energy drink brand in Thailand. In 1987, it entered the international playground, opening a whole new market for energy drinks. From the first Red Bull cans sold, Red Bull prides itself on being the source of energy and inspiration for the community in more than 167 countries and being the world's leading energy drink brand.
Constantly affirming its reputation and helping to boost body and spirit, It officially entered the Vietnamese market in 1994. Throughout more than 20 years of "supplying energy" for Vietnamese users with international quality, Red Bull constantly inspires young Vietnamese people to explore their potential and overcome all challenges to achieve their goals.
Red Bull is also considered one of the leading energy drink brands in the Vietnamese market. Vietnamese users often call Red Bull with the more popular name "bull butt" or "cow" because the product's logo has the image of two cows "butting" (or "collision"). Red Bull was the first brand to enter the consumer's memory under the name "energy drink". This is a mildly carbonated drink, mixed with a little caffeine with herbs, B vitamins, and amino acids. 
You can find for more information about Redbull, visit: Redbull Vietnam
Thank you for reading the article of https://gourmetfoodsvn.com/ wish you a productive day and learn more about Redbull products.